My family LOVES cooking shows, especially competitions. The creativity the chefs have to take seemingly non-related ingredients and making a cohesive and, hopefully, delicious dish. Sometimes we look at each other and say, "that will never taste good." Occasionally a chef will get a nod with a "never thought of that." My mom had the great idea to challenge my dessert abilities with giving me 4 ingredients that I had to incorporate into a dessert recipe.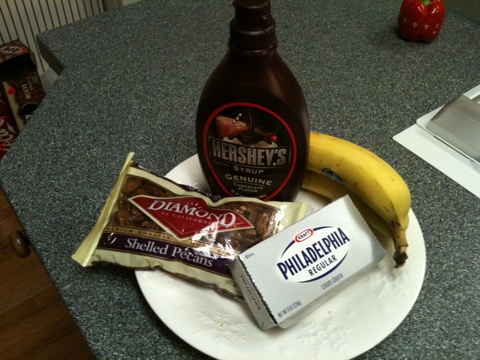 Bananas, chocolate syrup, pecans, cream cheese (obviously they weren't going to go too ambitious on the first try)
My vision turned into some sort of chocolate banana "sundae".  A few extra ingredients I added from the pantry were a chocolate cake mix, powdered sugar and butter.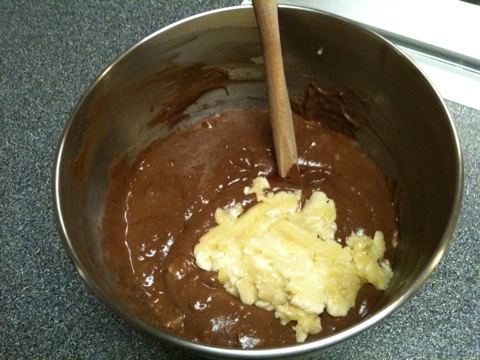 2 smashed bananas got folded into the chocolate cake batter and baked in a 9×13 pan according to the package directions.
I made a quick cream cheese/buttercream icing:
1/2 c. butter, soft
1/2 c. vegetable shortening
1 tsp. vanilla
4 oz. cream cheese, soft
4 c. powdered sugar
2-3 T. milk for consistency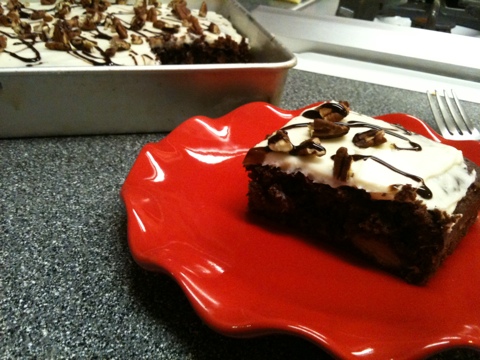 I topped the cake with the cream cheese icing, sprinkled pecans on top and drizzled with the chocolate syrup.
Try toasting the pecans first………I'll do that next time.
Everyone enjoyed a slice and were the typical critics like I was really a contestant on the Chopping Block.